From 17 to 30 November 2012 at  ALASKA Restaurant in Osaka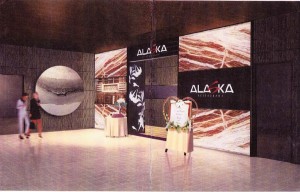 Alaska Restaurant is the name of several restaurants, fifteen in all of Japan, which has eighty-four years of history and a family business now in its third generation.
For the opening of the new location in Osaka, which is located inside a building where it is located one of the major film studios around the country, the owners have turned to the majestic art of Shuhei Matsuyama.
The next artistic challenge for the Master thus provides for the establishment of a circular mural that will be created on-site in the days between 17 and 30 November 2012.
For more information, visit www.alaska-net.co.jp
Pubblicato il 30 October 2012