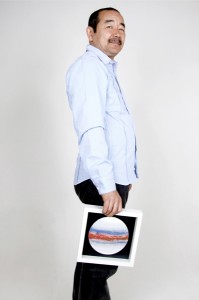 Shuhei Matsuyama was born in Tokyo in 1955. After completing his studies at the Academy of Fine Arts in his hometown, he moved to Italy where he attended the Academy of Fine art in Perugia. In 1991 he moved to Milan and began an intense exhibiting activity that took his work around the world, from Venice to Tokyo, from San Francisco to New York.
Most notable are the 5 major SHIN-ON exhibitions held in Venice over 10 years each in coincidence to the Venice Biennale. In France his works have been used for the cover of the annual program of the Conservatoire de Paris. He has also been involved in numerous public space projects. He has been responsible for the production of a 5m-column sculpture in Hakata, Japan, a mosaic fountain in Rieti, Italy, and for the artworks used for the president suit room in the Four Seasons Hotel, Saudi Arabia, in addition to other projects in prestigious offices, hospitals, hotels, apartments and restaurants.
A Man between two worlds, East and West, blending together the painting experience with spiritual creativity, producing works that combine two expressions: painting and sound to stimulate the senses.
In one of his interviews presented itself as follows:
Here (In Italy) I have learned many new things that have been beneficial to my spirit, as my friends say, but it is to Japan that I owe the experience and incentive that have allowed me to express myself with joy in life, which is if nothing else if not art. I believe joy is the most important thing in life and we can attain it only with temperance.
In this way it is possible to lead a simple life and therefore a creative one; somewhere between give and take there is a perfect equilibrium because if it weren't so inequality would lead man to unhappiness.
The artist (or man) must be free and that is possible only by knowing many things. It is because of this that I want to see, to try, to touch all things so as to bring these experiences back to the great masterpiece that is in every artist. To be moved, to explore and then to express ourselves is nothing more than immerging one's self in art but, since consciousness is not exhausted in the present, we need to approach it from a passive and immobile state: only by looking ahead can the spirit reach maturity.
To those who ask me: Why do you work?
I answer: to grow.
Why do you want to grow? To know myself.
Why do you want to know yourself? To express myself.
Why do you want to express yourself? To be an artist (a man).
Why do you want to be an artist? To be free.
Why do you want to be free? To feel joy in my life.
Matsuyama is a supporter of the role of Public Art to help familiarity with art, the involvement and the "co-participation" of those who benefit and the removal of the boundaries between the artist and the audience. He sees art, and in particular Public Art, as a service to humanity, improving culture, sensitivity, serenity and, in a broader sense, life.
Interview of MATILDE BONAITA with Music of HIROSHI SATO
Select the picture to see interview.