Sunday October 13, 2013
At Area Events of Mondadori Multicenter
via Marghera, 28 – Milan – (Italy)
MUSIC and POETRY – "Souvenir From Poland" Concert
The first event of the season with a concert Gift Musica and Poesia from Poland: the duo Kaban – Blazej (flute and piano) presents an interesting program centered on the fascinating composers Poland. Of their Yehudi Menuhin wrote: I was very impressed by your concert, considering your technical mastery and your musicality.
The room will be set up as always with the works specially selected by the Master Shuhei Matsuyama.
During the interval a pleasant refreshment will be offered by Hi-Cafe Lounge Bar.
Interpreters:
Henryk Blazej, flute
Teresa Kaban, piano
Music: F. Chopin, K. Szymanowski, H.M. Górecki, W. Lutoslawski, G. Enescu and others.
For the Schedule please visit our website:
www.notturnomusica.org
Primo appuntamento della stagione MusicaPoesia con il concerto Souvenir dalla Polonia: il duo Kaban – Blazej ( flauto e pianoforte ) presenta un interessante programma centrato su compositori dell'affascinante Polonia. Di loro Yehudi Menuhin ha scritto: sono stato molto impressionato dal Vostro concerto, considerato la vostra maestria tecnica e la vostra musicalità.
La sala sarà come sempre allestita con le opere scelte appositamente dal Maestro Shuhei Matsuyama.
Durante l'intervallo un gradevole rinfresco a cura di Hi-Cafe Lounge Bar.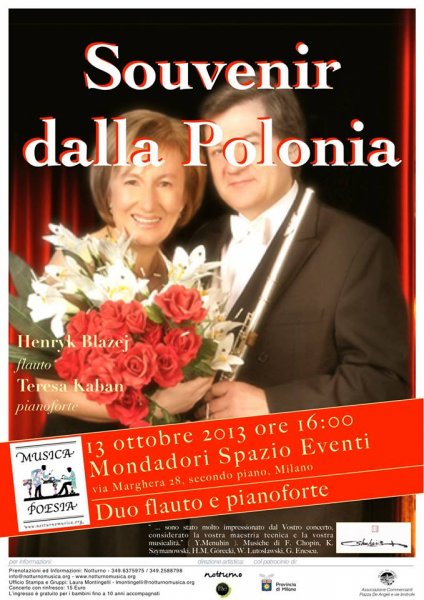 Preparation of Shuhei MATSUYAMA

Pubblicato il 07 October 2013