TuTuMu Exhibition in Milano
From April 8 (Tuesday) to April 13 (Sunday), 2014
At BAR&RISTORANTE SI di Calacoci Giulio 2nd floor, Galleria Vittorio Emanuele, Milan – Italy
From 11:00-20:00.
Party will be held in April 11 (Friday) 2014 – From PM 19.00 to PM 21.00.
Event information:
Washi
Museum
Shop
and TuTuMu exhibition in milano 2014
Con carta Giapponese
(20 designers will showcase their works.)
Washi Museum Shop exhibits and sells Japanese paper.
TuTuMu exhibition is the first art event in Milan to have held in April, last year.
This event pursues the possibility of smokestack industries of Japan,
and aims it at sending that wonderfulness also overseas.
We jointly hold a show.
Produced by
TuTuMu
Things. Thinks. More Under.
Things, you can wrap
Thinks, you can guard
but More, you can find Under
http://tutumu.org/
info@tutumu.org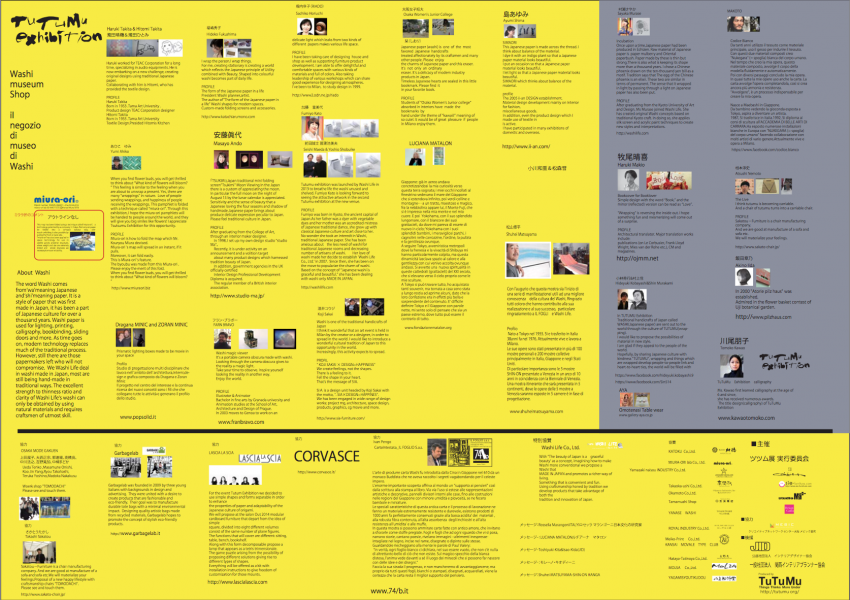 Pubblicato il 20 March 2014