From November 4, 2012 to January 8, 2013
Milan (Italy) – Viale dell'Innovazione – lowered square (Piazza della Trivulziana)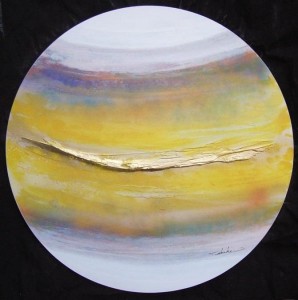 Shuhei Matsuyama returns to dazzle Milan with an exhibition in the heart of the Bicocca University buildings, at the  FrancoAngeli's library. Fans and newcomers to this genre will be inspired by the shapes and colors designed by the Japanese master, participating in the vernissage that will be held on Wednesday, November 14, 2012 from 17.30.
Among the paintings on display will be a selection of First Shin-On, the little-big picture that symbolizes the concepts of harmony, cyclicity and friendship.
In line with the current Public Art, Shuhei Matsuyama choose to contextualize their art in the frame of the FrancoAngeli's library in Bicocca, to emphasize the importance of the creative force as an instrument of democratic dialogue useful to involve everyone regardless of cultural barriers, because they can to speak directly to the spirit of the viewer.
In this sense, in fact, the bookshop located in the university campus is an ideal crossroads starring students: partners for their receptive nature and therefore more open to new types of intellectual forces that are beyond the canonical forms of painting.
Pubblicato il 31 October 2012